This week I am happy to present an interview all the way the from Netherlands! I have actually visited the Netherlands when I was a little girl and have fond memories of my time there.
I was drawn to Pauline's shop because of her ultra light, bright images and perfect minimal styling. Her taste is spot on, as you will see.
~~~~~~~~~~~~~~~~~~~~~~~~~~~~~~~~~~~~~~~~~~~~~~~~~~~~~~~~~~~~~~~~~~~~~~~~~~~~~~~~~~~~~~~~~~~~~~~~~~~~~~~~~~~~~~~~
Can you introduce yourself to my readers?


Hi, my name is Pauline, I'm Dutch and live in a very small village on the Dutch and German border. Our house is actually the last one in The Netherlands, the hedge around the garden is also the border between our countries. I have always been interested in 'old' things, even in 'old' people: I grew up in the same little town as all my grandparents, I even lived next door to them, and loved their stories of the old days and old ways. In my day job I am a concept developer and copy writer at an advertising agency. But I have also studied art and history, so all these things come together in my hobbies: finding retro items and then finding out as much as possible about them!

What sparked your interest in vintage?
It wasn't sparked, I guess, it was just always there, in my genes. I used to be more interested in antiques and vintage, say more romantic, more French style objects. Since I live here, my interest has been caught by more retro and designer items. It is just a small change in interest, but it brought me into a complete new world to explore. I like the history of things. The everyday history of the people that have used the items as well as the history of the development of an item, or the designer or potter that made them. But I also can enjoy the shape or color or design of an item without knowing much about it. When it brings a smile to your face you know it's a good thing!
Do you have any collections of your own?
Oh yes, I'm an avid collector.
Actually, the collecting made me start my shop on Etsy. In two ways. As I was looking for things to add to my own collections, I often found interesting things that were not for me, but that I was sure would be of interest to other people. I used to leave them at the flea markets, but now I buy them so other people can enjoy them. And on the other side: by selling some items then I can afford to spend a bit more on my own collections.
My main collection at the moment is West German Pottery (WGP) of the sixties and seventies. But I have quite a bit of Czech glass as well. And Scandinavian tableware. And Czech pottery. And Dutch pottery. And fifties paintings. And Italian souvenir ware. I hope my husband is not going to read this…! I used to hide things, but I (well, my pots) have come out of the closet about three years ago 😉 I try to keep these things in groups and not have them all over the house. When I can't open the door of the washing machine any more I know it is time to shift boxes and start selling again!
Is Etsy your sole source of income?
No, my shop on Etsy is just for fun, it is a hobby. With a full time job, a family, a dog and a large garden there is not much room left to do more than just potter about a bit in my shop. I hope to think that when I retire I can actually spend some more time on it.
Do you use social media to enhance your success on Etsy and if so, how?
No, I do not. It is actually because I do not have the time to do so. And I find that when people are looking for an item, they find you anyway. But it would be good to get more impulse buyers interested. I try to be good at describing my items in different ways to gain interest. This is a good tip if you want to have your items treasured: try to be creative in your description.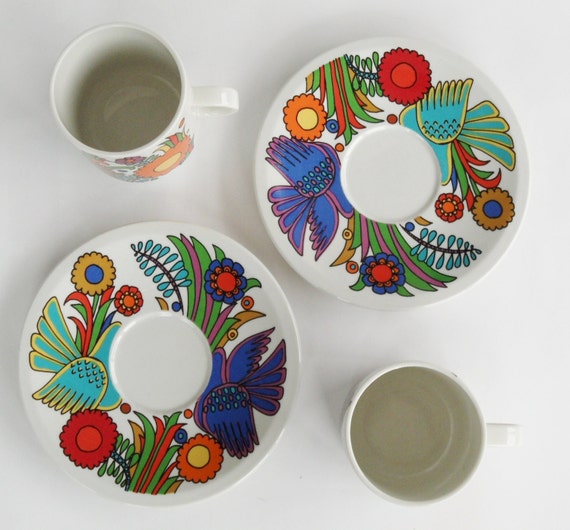 What has been your biggest Etsy success and your biggest Etsy fail?
My biggest Etsy success was the vase I listed and then thought I had done something wrong because I couldn't find it in my shop. I think it had been online no more than one minute and someone had already bought it. But it took me a while to realize that!
My biggest fail so far. As a matter of fact I have not yet had a big fail. Fingers crossed. But strange things do happen. I once sold a clock to a lady in Norway. She paid, I sent the item and then it returned to me after some weeks. It could not be delivered, said the label. I tried to contact the lady several times, even through her Paypal account and by googling her, but never heard from her again. I kept the parcel for a full year and then sold the clock again. But I keep wondering what happened to the lady… I think I will never find out!
What are your favorite places to score vintage treasures?
Oh, there are so many places, but my favorites must be the large German fleamarkets in the Ruhrgebiet. I go there with my friend Werner (another Etsy enthusiast). We meet in the morning at about 7.00 o'clock in a parking lot somewhere in Germany and then go on to the markets. These markets do not only offer an amazing array of goods, but the catering is a lot better than in The Netherlands too. Kaffee und Kuchen in the morning, Wurst und Braten in the afternoon. At the end of the day we are too tired to speak but it is a lovely way to find unexpected treasures.
What is your favorite era for vintage things? Why?
My favorite era is the seventies. Maybe that is because it reminds me the most of my youth. I was a very happy teenager in a small town that offered everything you could want for. My parents were not very strict so we were able to go out a lot and try out all kinds of different styles: mini skirts, maxi dresses, flared trousers, platform shoes, you name it, my sister and I wore it.
Favorite vintage icon?
My favourite vintage vase is this Otto Fat Lava vase from the sixties. It is a real icon and very sought after. I couldn't believe my eyes when I saw it on a stall between Barbie dolls and pink childrens dresses. It is so bright, so yellow and yet so robust, so basic. I just love it!
Thank you so much, Pauline, for sharing with us a little piece of your life in the Beautiful Netherlands!
Visit Pauline's shop, Coollect, here.