So Justin, can you introduce yourself to my readers?
In short, I'm a full time studio ceramic artist, living/working in Goshen, Indiana since 2009.
In 2001 I co-founded the Union Project, a nonprofit organization located in Pittsburgh, PA.
I have exhibited and published nationally and internationally, including articles in Ceramics Monthly, American Craft, Studio Potter, The Log Book, and Neue Keramik. I've presented, been a panelist, visiting artist, and artist-in-residence at numerous universities, schools, conferences, and art centers throughout the United States and abroad. My work is available for purchase in more than two dozen galleries and gift shops around the country.


I found your work because I was looking for Mr. Rogers stuff for another blog post, but your work goes waaaay beyond that Mr. Rogers mug, can you explain your process? I have read some of your item descriptions and I don't know what a decal is or really understand the process that your go through to make these amazing pieces, can you explain?
Much of the ceramic work I make is decorated with ceramic decals. Many of these decals I design/print myself using an HP laser printer. A while back some potters discovered that the black ink in HP printers contains enough Iron Oxide to sustain firing at high temperatures. I've utilized that concept and taken it beyond the traditional ideas of ceramic decal kitsch. I layer decals both over and under glazes to create complex surface decorations on my pieces. I also make very simple face mugs, including all 44 US Presidents, plus about 3 dozen historic and contemporary pop culture icons like Bob Ross or the Lorax. Many of my pieces are fired 4-6 times and have several layers of glaze and/or decals.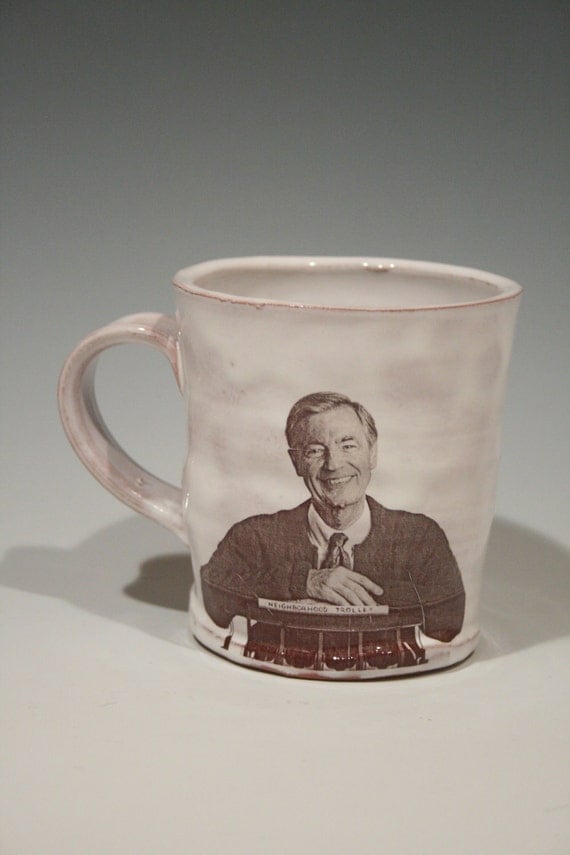 How long have you been selling on Etsy?
I've had an etsy shop since 2008, but really started working on it consistently in about 2010.
Is Etsy your sole source of income?
I'm a full time studio artist, but I sell my work in many venues. Etsy is not my sole source of income, but it has become a regular component of my sales strategy.
Do you use social media to enhance your success on Etsy and if so, how?
Yes. Social media is certainly an important part of my marketing strategy. I have a facebook page and an instagram account. These 2 things together have made a big impact on my ability to get my work in front of a larger audience. You can sell a pot if nobody can see it! So I try to document studio life, process, and new work on a regular basis.
What has been your biggest Etsy success and your biggest Etsy fail?
My 2 biggest wholesale accounts have come from galleries that stumbled across me on etsy. Also, I do an annual April Fools Day sale. It's usually 4 hours long, everything 50% off. It's been a great way to promote my work, get new clients, and generate buzz about my work.
Etsy hasn't failed me. I've found that if I put time into adding new work and promoting my Etsy shop I sell. If I don't spend time on it, then work just sits there. Just like any other gallery…you have to work at it, promote it, cultivate an audience.
What is a typical day like working for yourself in this field? Do you own your own equipment for this sort of work? Do you have a studio? Shared or just yours?
My studio is in a building next to my house. I keep a regular work schedule, generally 9-5. I work longer days/weeks during christmas or getting ready for a show, and I take time off in slow months like January or July. I have 4 kilns, 5 potters wheels, and a 600 square foot studio. I produce about 3000 pots a year, so I'm constantly making, firing, packing, and shipping pots to keep room in the studio. I often have an apprentice that helps me a few days a week with things like glazing or prepping clay.
What have you learned about photography as an Etsy seller?
I use my iPhone for all my photos. I have a simple seemless background and 2 lights. I shoot photos almost everyday. I post instagram photos regularly. The photos must be good, but I don't waste time getting fretting over perfection. I'm not a photographer, I'm a potter. To me, its more important to get the pots out there. I take photos that show off the pot. They aren't blurry or washed out, but they also aren't professional quality.
Do you get a lot of repeat business and if so what keeps your customers coming back?
Yes. I guess they like the work! And, as luck would have it, pottery breaks when you drop it. So then people come back.
What is your education or background?
I'm mostly self taught. I have a BA degree in art.